Before we get started, a lot has been happening in my own personal life & I am excited to share just a few of the projects that I have been working on. [I am going to make this short as possible to not take away from Jeannette- more shares to come!} For starters, just as one's personality and life progress, it only seems natural that my blog would reflect this transition as well. Food/recipes of course, will still be of main focus, but so will yoga/wellness/and anything else that life throws at me. To kick things off with this new theme I have decided to do an interview series and what a better way to kick it off with J! [which we will get to the reason as to why I choose her first.] Each month, I want to shine the spotlight on someone that we all love in the community or someone that we might not know too much about. Someone that continues to inspire not only me but others as well each day. Readers would get to see a snapshot of their daily lives plus I think you will enjoy reading each one because I am approaching it with a lighthearted and fun touch.
Jeannette and I first connected almost a year ago [probably due to our obsession Drake- who I couldn't leave out- you'll see below] and I feel so lucky to have someone like her in my life. She is inviting, an open book, funny and cool as hell, gorgeous, and makes you actually want to be a better person. She's the real deal.
Ok, so why the interview, why the transition/themes?! There were many reasons I wanted to interview (let's say chat) with Jeannette first, but the main one is, that (TOMORROW!!) I am embarking on a new journey of yoga teacher training. I will receive my training through Core Power Yoga, which is the same training Jeannette had received a few years prior and currently the studio she teaches at in CA. I am excited, nervous, ready, not ready, scared, every emotion in the book you name it, I am feeling it. The energy, the heat, the classes, the music, the community at the studio is something I've never felt anywhere else. I've been wanting to go through yoga training for years now, but this one just feels right and I feel I owe a big part of that to Jeannette for encouraging me and she didn't even have to do it through words. Like I said before, she just has this way about her of making you want to be a better person. I knew talking to Jeannette would calm my nerves since she has been through this before- after all she did inspire me to take my first class ever at core power- she knew I would immediately be hooked. Sure enough she was right...6 months and countless of classes later- I signed up for training!
Let's get to it! Meet J:
1. How did you get into yoga/health/fitness?

(J) I got into yoga when I got told from my doctor at the time I needed a hobby. I wasn't active at the time and I was feeling fatigued alllll the time so the doctor thought yoga would help. sure enough.. it did.

2. What's your favorite quote/mantra that you can't live without?

(J) listen to your body.

(B) I couldn't agree with this one more! The concept of simply "listening to your body" seems so easy; essentially, it is telling you EXACTLY what to do and EXACTLY what it needs at any given moment. For me, this is a hard one to balance and something that I am constantly working. However, whenever I do listen to my body and give it rest, feed it properly, push myself harder, or have some fun when it is calling to do so- in the end it was always worth it.

3. Who inspires you?

(J) people who are struggling in class inspire me because they're there to change despite how they look or how hard the workout gets.
4. What's your fitness secret?

(J) I'm obsessed with weight lifting. resistant training is key to a healthy, lean lookin' bod. and sleep. lots of it!

5. What is your favorite part about teaching yoga/yoga sculpt?

(J) hearing how awesome and great my students feel after my class! it's the most fulfilling part of my job. okay, my playlist is pretty cool too.. hahah

6. Tell us your most perfect day. How would you spend it? What would you do?

(J) the perfect day would be to spend the whole day with Aj and Elliott in LA preferably. we'd hike and grab brunch, then head to a museum, walk around shops and farmers markets, get some snacks, see a movie and grab dinner at gracias madre.

7. Ok, so what's your actual day like?

(J) I wake up, feed Elliott and pump. yep, drain these puppies out! haha get a workout in, come home and feed the baby again, make breakfast for Aj and I, then get stuff done around the house and work on some projects. once I'm done I make lunch and try to get out of the house for tea or coffee, usually with a friend. I hang out for a bit until I get home and have to make dinner while Netflix is on. currently watching bates motel since there's new episodes. baby daddy gets home around 6:30pm and we hang out at home or we go out with friends and bring the babe! my day in a nutshell (usually).
8. Write down the first three words that come to mind when you think of yourself. Ask AJ to write down the first three words that come to mind when he thinks of you.

(J) strong. healthy. peanut butter.
(AJ) wife. mother. lover.

9. One food you can't live with out....and no you can't say the entire True Foods Kitchen menu!!

(J) hahaha this is a hard one! but I cannot live without all kinds of veggies/fruit, siggis yogurt, PB and eggs.

10. What makes you laugh?

(J) anything. I even laugh at my own jokes!

11. You just had a baby, you're wife to AJ, a friend, a sister, a daughter, a yoga instructor, a superwoman (can I call you that?!) how do you keep it all together? (i.e manage stress, zen out, find the time to exercise, self- care, relax)

(J) I don't have time to lose my shit.. eating snacks helps too hahha. I pray. I have close friends and family who are always by my side if I need them. I'm also extremely honest and open up quickly. that really helps, just letting it alllll out!
12. When you have 30 minutes of free time- all to yourself- no baby- no husband- how do you pass the time?

(J) I go to whole foods. I walk the isles, read labels and shop. it's soothing to me.

(B) Not to jump in here, but I do the exact same thing. I could spend hours doing this.

13. Now that baby Elliot is born, how has your attitude towards health, fitness, and body image changed?

(J) it's changed so much. I can care less if my belly is a little jiggly or if I'm not as lean. I now look at my body as an incredible gift. my body was strong enough to birth my breech baby with no meds and is able to produce milk to nurture and help grow my babe. it's insane how our bodies work. I'm in awe by it all!

(B) That is such an unbelievable accomplishment to think about it, isn't it? It still amazes me every single day when I think about the whole process, especially when I am negatively judging my body or comparing it to others. I don't think we, us girls, give ourselves enough credit nor thanks for what our bodies do for us each and every single day. We need to. We need to take care of our bodies now so they perform well at every age. It shouldn't be a matter of looking a certain way, but feeling good and feeling healthy.
14. One of the reasons I wanted to interview you first, as you know, is I am starting my yoga teacher training in just 1 week! Any advice for me? Or others out there that are interested as well but might be scared, nervous, and flat out intimidated by the whole process (like me!)

(J) I'm so excited for you! the only advice I have for you is, go with it! it's hard to let allll our insecurities go and do this thing we're passionate about without being scared. but it's hard so you gotta let go and do it! your breath and body with guide you. no one ever knows if you say the wrong thing or "mess up". there's no such thing. yoga is about learning along the way and being you. finding your voice and bringing it to your class. nothing else matters but your students, breath and music. have fun with it and don't be shy. pretend no one else is in the room. you got this!

15. Finish the sentence: The best part of waking up is....

(J) BREAKFAST!!!!!!!
(B) Of course you would say that...haha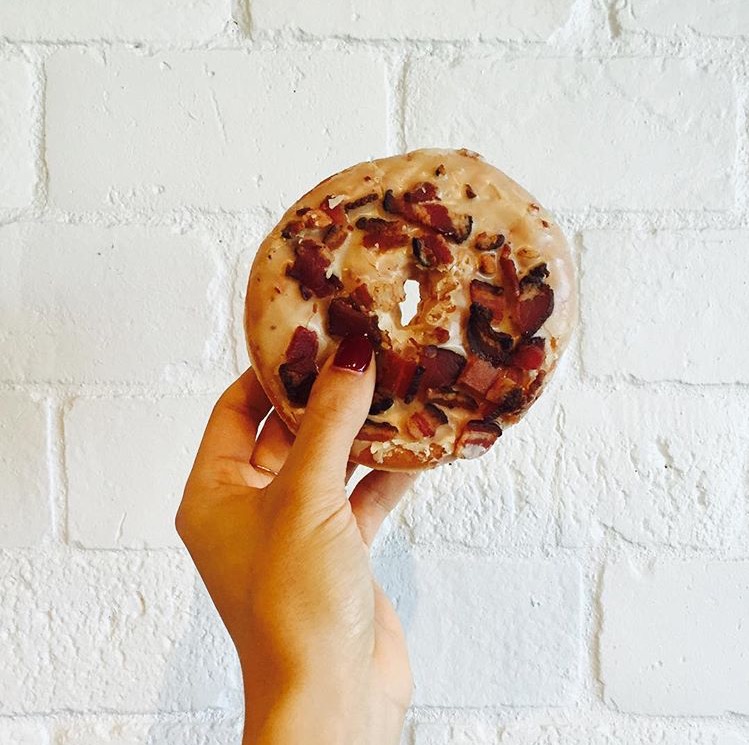 Rapid fire questions! One word:

-Favorite Rapper: drake
-Go to snack: siggis yogurt
-If you could live anywhere else, where? NYC
-What's the #1 most played song on your iPad? currently, "summer sixteen"
-Guiltiest pleasure: yogurtland. lots of it.
-If you could learn to do anything, what would it be: how to deliver babies naturally.
-Peanut butter or almond butter: PEANUT BUTTER!
-Instagram handel: @shutthekaleup

16. What studios do you teach at?

(J) I teach sculpt at pacific blue yoga in laguna beach on Saturdays at 3pm and tustin corepower yoga studio on Wednesdays and Fridays at 9am.

I hope that you all enjoyed this new segment and learning about our favorite yogi mama!!